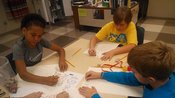 Gifted Education Center
Philosophy of the St. Clair County Gifted Education Program:
Intellectually gifted children and youth are those who perform at or have demonstrated the potential to perform at high levels in academic or creative fields when compared with others of their age, experience, or environment. These children and youth require services not ordinarily provided by the regular school program. Children and youth possessing these abilities can be found in all populations, across all economic strata, and in all areas of human endeavor. Gifted students may be found within any race, ethnicity, gender, economic class, or nationality. In addition, some students with disabilities may be gifted.
PROGRAM GOALS
I. To provide training for all staff on the procedures for referring and
identifying students for gifted services.
II. To continue working towards racial equity in the gifted program.
III. To continue conducting Child Find Activities
IV. To ensure that there are comparable services throughout the system.
V. To work towards a true continuum of services for high-end learners.
VI. To provide curriculum for gifted learners that are concept and problem based.
REFERRALS
The St. Clair County Gifted Program strives to provide the same level of notice to parents and students regarding information about the gifted program as it does with respect to other significant school activities, policies, or procedures. The notice includes information on the definition of gifted, how to refer a student, the basic eligibility criteria (excluding test scores), and who to contact to make a referral.
Teachers, counselors, administrators, parents or guardians, peers, self or any other individuals with knowledge of the student's abilities may refer a student. Additionally, all second grade students will be observed as potential gifted referrals using a gifted behavior checklist.
For each student referred, information is gathered in the areas of Aptitude, Characteristics, and Performance. The information is entered on a matrix where points are assigned according to established criteria. The total number of points earned determines if the student qualifies for gifted services.
To make a referral, contact the gifted speicalist at your child's school.
Gifted Referrals Screening Team (GRST)

Each school in St. Clair County establishes a team to receive and review referrals for gifted services. Each team consists of at least three people (gifted specialist(s), counselor, administrator, general education teacher, psychometrist, or other). Members include someone knowledgeable about the student and someone knowledgeable about gifted education. It is highly recommended that the gifted specialist(s) serve on the GRST.
Screening Criteria

The St. Clair County School System uses the State Screening/Eligibility Determination Form to screen students to determine if further assessment is necessary. 14 points are required to pass screening.
EVALUATION

The St. Clair County School System selects and administers tests and evaluative materials that are sensitive to cultural, economic, and/or linguistic differences and that are appropriate for the special populations such as the sensory impaired, LEP, or physically impaired student. Students from underrepresented groups will have both verbal and nonverbal abilities assessed (and creativity when appropriate) before being determined ineligible.
ELIGIBILITY

The Eligibility Determination Team (EDT) implements procedures to determine eligibility of students for gifted services. Members of the team include someone knowledgeable about the student being assessed, someone knowledgeable about gifted students in general, and someone able to interpret the information gathered. There are at least three members on the team. The EDT may include the same members as the GRST.
The Eligibility Determination Team (EDT) uses the ALSDE Gifted Eligibility/Screening Determination Form to screen students to determine gifted eligibility. At least 17 points are required for gifted eligibility.
SERVICE DELIVERY OPTIONS

Gifted students receive services through a variety of service delivery options depending on the age of the student and the resources available to the LEA. Services for students of the same grade level on different campuses are comparable in quality and duration. Examples of service delivery options include: consultative services from the gifted specialist provided in the regular classroom setting (e.g., extra materials. learning centers); curriculum compacting; cluster grouping with differentiated curriculum in the regular classroom; cross-age grouping in areas of strength; traditional pullout services for 3 hours a week; advanced curriculum provided by qualified regular education teachers through differentiated curriculum; electives in a variety of talent areas (art, music [choral and instrumental], technology taught by qualified instructors; advanced core curriculum classes provided by qualified regular or distance learning instructor; electives in a variety of talent areas (art, music [choral and instrumental], technology, foreign languages) taught by qualified instructors; and counseling services for college and career preparation.
PROFESSIONAL DEVELOPMENT

The St. Clair County School System provides on-going staff development for gifted specialists and general education teachers to ensure continuous improvement. Professional development may include but is not limited to: the gifted referral process, underrepresented populations, differentiated curriculum, updates in gifted education, and the nature and needs of the gifted student.
For any questions regarding the gifted program, please contact Nona Vickers 205-594-7131 ext. 2281.