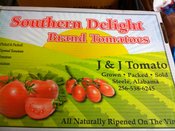 St Clair Country Schools proudly serve local produce!
Welcome to St Clair County Child Nutrition Program
2016-17 Meal Benefit Applications are available at your child's school, our central office in Ashville, or click here to apply on line now!
Research has shown that there is a crucial relationship between nutrition and health, and nutrition and learning. Experts also agree that most food preferences and dietary habits are formed during childhood.
The St. Clair County Child Nutrition Program is committed to taking advantage of the opportunity during a child's developmental years to promote and influence healthy food choices through school meals.
Each lunchroom in our system strives to offer a variety healthy, delicious, and kid-friendly menus in a cheerful manner.
The St. Clair County Board of Education Child Nutrition Program participates in the National School Breakfast, & Lunch Program that operates under federal nutrition guidelines, as mandated by the National School Act of 1946 and the Child Nutrition Act of 1966 and its revision of 2010. These nutrition guidelines for schools are based on Recommended Dietary Allowances (RDA), student's caloric needs, and the Dietary Guidelines for Americans.
School breakfast provides one fourth of an average American child's nutritional needs and school lunch provides one third of an average American child's nutritional needs based on their grade group. The St Clair County Child Nutrition program is delighted to offer a large variety of vegetables & fruits as well as more whole grains, and low fat and fat-free dairy products in recipes and products designed to appeal to children & teenagers.
No adult or student meals may be charged. A computerized program allows for advanced payment of all meals and extra sales. This practice is strongly encouraged as this will help the cashier line move faster and give students more time to enjoy meals. Students will be issued a card to use for meal purchases. If a student loses his/her card he/she will be given a replacement card at no charge. If the replacement card is lost, there will be a $3.00 charge placed on the student's account for each replacement card. Children may also use their unique four or five-digit pin number at the cash register. Cashiers are available in the lunchroom to accept payment on accounts between breakfast and lunch. The CNP section of the school system website provides the ability to add funds to a student's meal account online, as well as reviewing the account at no charge. A convenience fee will apply to online transactions.
School menus are sent home monthly with children grades K-8 and are also available on our website along with calorie and nutrition information.
Carbonated beverages and fast food items (in original containers) are not allowed in school lunchrooms. This rule applies to students, visitors and employees.
Breakfast Prices:
Full (K-12) - $1.25
Reduced (K-12) - $0.30
Staff - $1.75
Visitor - $2.50
Lunch Prices:
Full (K-6) - $2.50
Full (7-12) - $2.75
Reduced (K-12) - $0.40
Staff - $3.25
Visitor - $4.00
To receive special "combo meal" pricing students must choose 3 or 4 meal items at Breakfast and 3, 4 or 5 meal items at Lunch. One food item at breakfast must be a fruit or juice and one food item at Lunch must be fruit, juice or vegetable to receive special pricing! Students may purchase extra or a la carte items if they have money in their lunch account.
It is the policy of the St. Clair County Board of Education to provide the Child Nutrition Program to all students based on the parent's ability to pay. Eligible families are encouraged to take advantage of the free and reduced meal program. The system's eligibility for state and federal programs available to students is based, in part, on the number of children enrolled in the free and reduced price lunchroom program. The Child Nutrition Program requires only one free/reduced lunch form per family or household, even if your children attend different St. Clair County Schools. If your child is transferring from another school district, you must complete a new form for St. Clair County.
COMPLETE YOUR LUNCH FORMS ON LINE! SIMPLY VISIT WWW.EZMEALAPP.COM TO FILL OUT AND SUBMIT YOUR FREE/REDUCED PRICE APPLICATION! CHOOSE ALABAMA, THEN ST CLAIR COUNTY BOARD OF EDUCATION AND YOU'RE READY TO FILL OUT THE FORM .
2015-16 Forms will expire in September. You must fill out a new form each school year. YOU MAY COMPLETE A FORM ANY TIME DURING THE SCHOOL YEAR. PAPER FORMS ARE ALSO AVAILABLE AT YOUR CHILD'S SCHOOL AND OUR CENTRAL OFFICE, SO USE EITHER METHOD.
QUESTIONS? CALL RACHEL FOWLER, 205-594-2022.
After School Meal Program
The After School Meal Program
By the time students arrive at their afterschool programs, lunch is a distant memory. Traditionally snacks are provided, but children need more sustenance to help get them through their afternoon activities. The After School Meal program, funded through the federal Child & Adult Care Food Program, provides nutritious meals to students 18 years and under at eligible after-school program sites.
Child Nutrition Services is rolling out after school meal programs in place of after school snack services at all school sites this year.
Filling a Nutrition Gap Similar to the lunch program, supper meals are freshly prepared and offer healthy proteins, whole grains, fresh fruits and vegetables, and milk.
Our program is in no way intended to take away from family dinners. However, many children arrive home very hungry (school lunch can be as early as 11 a.m.!) and reach for high calorie snack foods.
Beneficial for Students and Staff Offering an after school meal not only serves our students but also our Child Nutrition Program staff by providing additional work hours. The After-school meal program is a critical component of St Clair County Schools' goal of serving nutritious meals each school day to our students. Well-fed students are more alert and can fully benefit from their educational and enrichment activities.
Monitor your student's lunch account! Visit EZSchoolPay.com to set up your account. You may view purchases and account balance at no charge. There is a service fee to add money to your child's account using EZ school pay. To avoid extra fees, you may send in cash or checks made to St Clair County Schools CNP.
LINKS
The U.S. Department of Agriculture (USDA) prohibits discrimination against its customers, employees, and applicants for employment on the bases of race, color, national origin, age, disability, sex, gender identity, religion, reprisal and, where applicable, political beliefs, marital status, familial or parental status, sexual orientation, or all or part of an individual's income is derived from any public assistance program, or protected genetic information in employment or in any program or activity conducted or funded by the Department. (Not all prohibited bases will apply to all programs and/or employment activities.)
If you wish to file a Civil Rights program complaint of discrimination, complete the USDA Program Discrimination Complaint Form, found online at http://www.ascr.usda.gov/complaint_filing_cust.html, or at any USDA office, or call (866) 632-9992 to request the form. You may also write a letter containing all of the information requested in the form. Send your completed complaint form or letter to us by mail at U.S. Department of Agriculture, Director, Office of Adjudication, 1400 Independence Avenue, S.W., Washington, D.C. 20250-9410, by fax (202) 690-7442 or email at program.intake@usda.gov.
Individuals who are deaf, hard of hearing, or have speech disabilities and wish to file either an EEO or program complaint please contact USDA through the Federal Relay Service at (800) 877-8339 or (800) 845-6136 (in Spanish).
Persons with disabilities who wish to file a program complaint, please see information above on how to contact us by mail directly or by email. If you require alternative means of communication for program information (e.g., Braille, large print, audiotape, etc.) please contact USDA's TARGET Center at (202) 720-2600 (voice and TDD).
USDA is an equal opportunity provider and employer.
Last Published: 08/26/2015